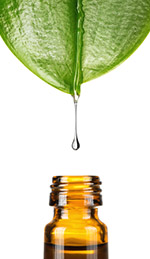 As aromatherapy rises in popularity, there has also been a corresponding rise in the demand for organic essential oils. Discerning customers, as well as practitioners in alternative and complementary medicine, are interested in buying the best-quality oils for therapeutic work at home and in aromatherapy; for many, that means buying organic essential oils. However, are organic oils automatically better quality? The answer may surprise you.
The official definition of an organic product means that it has been produced without the use of artificial pesticides, herbicides, growth agents, or additives. Antibiotic-free beef or fruits and vegetables grown without artificial fertilizers are examples of organic foods. In addition, certified-organic essential oils have been verified by the U.S. Department of Agriculture to be free of adulterants and synthetic additives. Similar government agencies do this kind of certification in Australia, Japan, the United Kingdom, and other countries. In general, it is not the actual products but the farm or facility where the products are grown or processed that receive an organic certification.
These days, the word organic has become a shorthand for pure, natural, and high quality. However, when it comes to essential oils, there are many factors that determine their quality and suitability for therapeutic use—and surprisingly, being organically produced isn't necessarily one of them. While the way plants were grown will certainly influence quality, other factors such as time of harvest, how the plants were harvested, method of distillation, and aftercare of the finished oil are equally important in producing a high-quality essential oil. All these factors could make a conventionally grown but professionally processed essential oil better for aromatherapeutic work than an organic essential oil that was harvested and distilled poorly.
All this means is that essential oils don't have to be organic to be therapeutic grade. In brief, therapeutic-grade essential oils are generally distilled at lower temperatures and pressures in order to preserve a range and ratio of constituents that is closer to that of the living plant. Therapeutic-grade oils are also used in cosmetics, skin care products and perfumes; commercial-grade oils are distilled in larger, more cost-effective batches and are used in cleansers, detergents, and food flavoring.
There's still plenty of reason to seek out organic essential oils, not least of which is that worldwide demand for organic products has enabled more and more farmers to acquire the equipment needed to produce therapeutic-grade organic essential oils. When you buy an organic oil, you know you're getting a product that is closer to nature and can be assured that it will have the therapeutic effects you want it to, free of synthetic additives or contaminants. Plus, you'll have the satisfaction of supporting small organic farmers and voting with your dollar against the use of synthetic fertilizers and pesticides. At Essential Oil Exchange, we strive to source the highest-quality therapeutic grade oils from micro-distillers around the world. We never purchase oils that have been adulterated with synthetic compounds or cheap vegetable oil, so you can shop our line of 100% pure essential oils with confidence for all your aromatherapy needs!