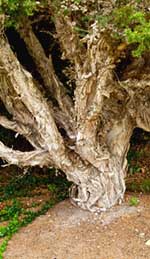 Among the array of healing Australian oils offered at Essential Oil Exchange, there is a little-known oil steam disilled from the leaves of Melaleuca quinquenervia. Niaouli essential oil doesn't get much press, yet its antiseptic and anti-inflammatory properties rank up there with tea tree and eucalyptus oil, two of its more famous relatives. Niaouli oil is a clear to pale yellow-green mobile liquid with a fresh, camphoraceous odor reminiscent of eucalyptus. In aromatherapy it is most often used as an antiseptic and expectorant [1], especially in a blend with eucalyptus, tea tree, peppermint, pine, myrrh, and ravensara oils, all of which have phenomenal disinfectant and expectorant properties of their own and synergize powerfully with niaouli oil.
Niaouli (nee-AH-oo-LEE) is an evergreen tree related to the tea tree (Melaleuca alternifolia), and is native to the former French Pacific Islands, New Caledonia, and Australia. The tree itself has a flexible trunk, spongy bark, and shiny pointed leaves that indigenous Australians used to make wound poultices, reduce fevers, and disinfect water holes by scattering the leaves into them. In fact, niaouli leaves are such an effective antiseptic that the leaves and oil were later used to disinfect obstetric wards in French hospitals [2].
Botanists on Captain Cook's 1788 voyage to the Pacific were the first to give niaouli its Latin name and classify it alongside the tea tree. Today, niaouli essential oil is still added to toothpastes and mouth sprays as a disinfectant, and its list of uses in aromatherapy is also growing apace. Because of its similar therapeutic properties, aromatherapists will sometimes substitute the gentler-scented niaouli oil for tea tree oil when working with clients who object to the medicinal odor of tea tree oil [2]. Like eucalyptus, niaouli oil has anti-inflammatory and analgesic properties, and is often used in massage to treat rheumatism and arthritis [1]. A topical niaouli oil blend can also be beneficial in fighting acne, boils, decongesting oily skin, and disinfecting minor cuts and wounds [3].
However, where niaouli essential oil really shines is in treating respiratory infections and congestion. Niaouli oil works as an expectorant when it is inhaled from a diffuser or in a steam bath, and the oil's antiviral, antiseptic, and decongestant properties have been used to treat the common cold, bronchitis, whooping cough, sinusitis, chest cough, and even tuberculosis [2]. The cooling minty quality of niaouli oil can soothe a respiratory tract that has become irritated, while the aroma lifts fatigue and gives a much-needed boost to the immune system, especially in these trying winter months.
REFERENCES
1. Duke, James A. 1983. "Melaleuca quinquenervia (Cav) ST Blake" in Handbook of Energy Crops. Purdue University. https://www.hort.purdue.edu/newcrop/duke_energy/Melaleuca_quinquenervia.html.
2. "Niaouli – Aromatherapy (Melaleuca viridiflora)". Herbs2000. Accessed May 8th, 2014. http://www.herbs2000.com/aromatherapy/a_niaouli.htm.
3. "Niaouli Essential Oil Profile, Benefits and Uses." AromaWeb. Accessed May 8th, 2014. http://www.aromaweb.com/essential-oils/niaouli-oil.asp.