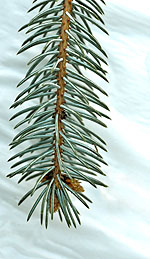 Spruce essential oil has many properties and uses, but is primarily used to aid the respiratory system during coughs, colds, asthma issues and other breathing conditions.  However, it is also used topically to sooth muscular aches and pains.  Recent studies of its micro components have produced results that may indicate that spruce essential oil has anticancer properties – but, further research needs to be done. And of course, let us not forget its use in aromatherapy for its calming and elevating scent!
Background:
Many wise men have said that nature is our classroom: after all, natural spaces are filled with information and organic wisdom. With nature all around us, we can reconnect with the world that is the foundation of all knowledge and learn all about what nature has to offer. One such valuable knowledge aquisition is an understanding of spruce essential oil and its many benefits. Spruce needles come from the Spruce tree, which is a member of the genus Picea – a family of about thirty-five other plants of the evergreen type [9].
Spruce essential oil is derived from the needles of the spruce tree and has been used for its healing properties for quite a long time.  Captain James Cook, a historically acclaimed European adventurer, actually made a "spruce beer".  The alcoholic spruce beverage was used to prevent himself and his crew from getting scurvy [8]; the spruce is a natural source of highly concentrated vitamin C, a nutrient lacking in people who develop scurvy. Of course, one might wonder how Captain Cook knew to use spruce – a plant native to the northern regions he colonized – and to this we can only assume that the generous hosts native to the region must have blessed him with their natural wisdom, sharing the healing qualities provided by the local plants.  Presumably, the wisdom that spruce oil soothes aching muscles, improves breathing, and gets rid of lingering coughs that make the body weak and the mind irritable was passed from one generation to the next of the native peoples of North America.
Usage:
Aside from developing a historically appreciated "spruce beer", one can also make a spruce tea – by brewing spruce needles – that has similar nutrient properties and benefits as the "spruce beer" – namely, it's an excellent source of vitamin C! [10]
Typically in aromatherapy, spruce essential oil is used to promote uplifting and invigorating feelings [6].  Spruce essential oil is also often used to clear breathing passages and aid overall respiratory health, especially when it comes to addressing a bad cough or bronchitis.   Amongst the several other typical benefits of spruce oil is its topical application to aid with aches and pains, rheumatism and poor circulation [7]. Black spruce essential oil is said to have antibacterial properties too,  as well as providing support to the adrenal glands of our body that can become overworked and damaged from stress, poor diet and overall bad lifestyle choices; the oil can also be rubbed over lymphatic tissue areas or areas located near your adrenal glands to aid with proper functioning [2].
Spruce essential oil and its uses are a good example of how elements of nature can be used for more intricate medicinal or healing purposes. Nature is our medicine chest and it is filled with naturally occurring chemical compounds that interact beautifully with the human body. Spruce oil is mainly made up of chemicals like bornyl acetate with smaller amounts of limonene, borneol, camphor, a- and ß-pinene, camphene, 3-carene, and ß-phellandrene [5].  Spruce species also have phytonutrients (plant nutrients), such as the lignan – titled 7-hydroxymatairesinol –  that are identified as possibly having a major role in the health of the human body.
Spruce essential oil's phytonutrients – primarily its lignans 7-hydroxymatairesinol –  have been used in studies that indicate that it may interact with the cells in the body to normalize hormone secretion, creating balance and stability; it has primarily proestrogenic activity (promotion of balanced estrogen).  These studies also indicated that the properties of the spruce may also have chemopreventative properties with respect to cancerous cell formation as well as antioxidant properties [4]; in laymen's terms, this means spruce essential oil may be used in the treatment or prevention of cancer and prevent the need for synthetic chemical treatment.
Blending:
Spruce essential oil is used in bath oils, soaps, vapor rubs and other body products that are designed to ease discomfort related to colds, coughs and other respiratory conditions [3].  It can also be blended with other oils such as lavender essential oil to make a soothing blend or red myrtle, eucalyptus and peppermint essential oils to add to its respiratory health and invigorating properties [1].  If you are feeling particularly congested, try putting a few drops of spruce oil in a pot of boiling water on the stove. Bring the water to a boil and inhale the resulting vapors. You will notice that your respiratory function improves in moments!
Safety:
Although spruce essential oil is a relatively benign and harmless essential oil, it is always wise to seek the advice of a practitioner who is an expert in the use of essential oils and herbs.  Yes, spruce essential oil is used in many over-the-counter nutrition supplements, but as always, these ingested forms of the oil are constructed with fine tuned scientifically developed tools and resources.
Once you've done your research and want to seek the beautifully aromatic properties of spruce essential oil – do not hesitate to get your hands on a bottle of it and begin to bask in its wondrously invigorating aroma and healing powers!
Sources:
1. Breathe Clearly. Community Pharmacy, November 17, 2003: p. 28.
2. Catty, Suzanne. "Spruce up your shower." Natural Health – Academic Onefile, November 2012: p. 66.
3. Clear Breath Bath Oil. Beauty Counter, June 1, 1998: p. 29.
4. Cosentino, Franca, Ramona, Marco, Delle, Marcello, Silvano and Paracchini Segio Lecchini. "Immunomodulatory activity of the lignan 7-hydroxymatairesinol potassium acetate (HMR/lignan™) extracted from the heartwood of Norway spruce (Picea abies)". International Immunopharmacology, vol. 10, March 2010: p. 339-343
5. Food and Chemical Toxicology. Volume 30 (1), 1992: p. 117-118.
6. Jarrett, Linda F. "Aromatherapy: Advocates are convinced that scents can impact health & Well-being". Executive Health's Good Health Report, Vol. 35 (4), January 1999: p. 7.
7. Lawless, Julia. "The Encyclopedia of Essential Oils: The Complete Guide to the Use of Aromatic Oils in Aromatherapy, Herbalism, Health and Well-Being".  Conari Press, 1st ed., May 23, 2013.
8. Stubbs, Brett J. (June 2003). "Captain Cook's Beer: the antiscorbutic use of malt and beer in late 18th century sea voyages". Asia Pacific Journal of Clinical Nutrition 12 (2): p. 29–137.
9. Wikipedia. "List of Essential Oils". Last updated, March 17, 2014: http://en.wikipedia.org/wiki/List_of_essential_oils#cite_note-28
10. Wikipedia. "Spruce". Last updated, February 27, 2014: http://en.wikipedia.org/wiki/Spruce#cite_note-7