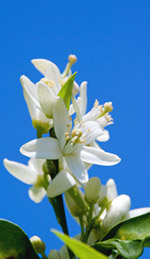 The delicate floral scent of neroli essential oil has been prized in perfumery since the 1600s because of its ability to lift the mood, banish fatigue, and improve the skin's complexion and color. Distilled from the flower of the bitter orange tree (Citrus aurantium var. amara), neroli oil has a lighter aroma than other citrus-based essential oils, floral with rich honey undertones. Because of their delicacy, neroli blossoms must be hand harvested, usually from April to June, and distilled using water rather than steam to preserve their fragile array of chemical compounds.
Besides neroli oil, the bitter orange tree is also the source of petitgrain essential oil (from the leaves and twigs) and bitter orange oil (from the fruit rind) [1]. Originating probably from the Middle East, the juice and rind of the bitter orange were used medicinally throughout the Arab world and Europe: bitter orange juice was recommended by Gerard, a British herbalist, for healing scorpion stings and expelling intestinal parasites. Although bitter oranges were probably never used as a food—they are quite sour, as their name suggests—the juice may also have been used as a gastric stimulant and treatment for indigestion. Another common use was to place dried orange peel or whole fruit into linen chests to repel moths that could destroy textiles. This practice has survived in the pomander, an aromatic dried orange studded with cloves that can be used to scent drawers or entire rooms, often around Christmastime.
Neroli essential oil only really came into its own in the late 1600s, when the Italian princess Anne Marie Orsini began using the oil to scent her gloves and bathwater, making neroli oil the fasionable fragrance of the era: the name neroli actually derives from Nerola, the Italian city where she ruled [1]. Due to its distinctive yet unobtrusive scent, neroli oil features in up to 12% of perfumes produced today, and is speculated to be one of the secret flavoring ingredients in the closely guarded recipe for Coca-Cola [1]. Blending well with most essential oils, particularly floral and citrus oils such as bergamot and petitgrain, neroli oil is a common ingredient in facial creams and toners, including the famed orange flower water, because its astringent properties tone the skin [2]. However, since many commercial orange flower waters contain alcohol and other additives that can dry out the skin, we recommend buying your own neroli essential oil and diluting a bit in a spray bottle of water to make small, easy-to-use quantities of this excellent toner.
In aromatherapy, neroli essential oil is especially helpful for its calming effects on the emotions: simply inhaling neroli oil can help reduce nerves, balance emotional turmoil, and reduce feelings of distress [3, 4]. Some aromatherapists also use neroli oil to treat occasional sleeplessness [4]. Besides its toning actions on the skin, a massage with neroli essential oil can also stimulate circulation and minimize the appearance of stretch marks, varicose veins, and thread vein scars [2]. Its circulatory stimulant properties can also help diminish or eliminate under-eye puffiness and provide mild pain relief [2].
Unlike citrus oils derived from the fruit rind, neroli essential oil does not contain the coumarin compounds that can cause photosensitization and is safe to use by itself on skin that may be exposed to sunlight [1]. Whether you use it in a perfume, facial toner, massage, or simply diffuse it into your home, this light, flowery oil is sure to brighten your spirits and help your light shine!
REFERENCES
1. "Neroli." Wikipedia. Accessed May 7th, 2014. http://en.wikipedia.org/wiki/Neroli.
2. O'Leary, Sarah. November 9th, 2012. "Relieve Depression and Increase Confidence with Neroli Oil". Holistic Hot Sauce. http://www.saraholeary.net/heal-depression-and-increase-confidence-with-neroli-oil/.
3. Keville, Kathy and Mindy Green. December 2008. Aromatherapy: A Complete Guide to the Healing Art. Crossing Press.
4. Chen, Ying-ju, Fuchou Cheng, Ying Shih, Tsong-Min Chang, Ming-Fu Wang, Sen-Sen Lan. June 2008. "Inhalation of Neroli Essential Oil and Its Anxiolytic Effects." Journal of Complementary and Integrative Medicine 5 (1).