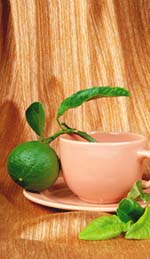 Some experts say that the bergamot tree is native to Southeast Asia and it was introduced to Europe years later, but others say its ancestral home was Greece. Regardless of its origin, the strange cross between a lime and orange tree (although some say orange and grapefruit tree) has made the Calabria region of Italy famous.
Bergamot (Citrus bergamia) is an evergreen tree believed to be a cross between the sweet orange and another type of citrus tree. It has small white flowers that blossom in winter, and yellow, slightly pear-shaped fruits that are harvested for use in cuisine and the perfume industry [1]. Calabria in Italy is currently the largest producer of bergamot, producing 80% of the world's supply; other major bergamot-producing countries are France, Côte D'Ivoire, and southern Turkey (Anatolia) [1].
The Greeks say the name comes from a Turkish word that means "the lord's pear," but the Italians say the name comes from the town where the bergamot was first sold, which is Bergamo in Lombardy, Italy. Bergamot oil got its reputation from the perfume and toiletry industry, but the fruit has been used for years in Earl Gray Tea. Though the fruit pulp is not known to be edible, the juice and peel of bergamot are used in flavoring applications: bergamot adds flavor to Turkish delight, baked goods, marmalade and snus (a kind of smokeless tobacco popular in Norway and Sweden)[1].
The bergamot's peel also plays an important part in aromatherapy oil treatments. The essential oil is composed of several chemical constituents like limonene, linalool, a-bergaptene, myrcene, b-bisabolene, linalyl acetate, neryl acetate, nerol, geraniol, a-terpineol, and geraniol acetate [2]. These compounds give bergamot oil powerful analgesic as well as antibiotic and antiseptic qualities [3]. Bergamot oil can be a quick pick-me-up when minor depression, stress, and tension develop after a long day of tedious work, or when a major event spoils positive expectations.
When bergamot is used in burners it helps relieve respiratory issues, and when the oil is blended into a cream it's used for cuts, acne, cold sores, psoriasis, and chicken pox [4]. Bergamot can cause photosensitivity, so when the essential oil is used in massage, the sun should be avoided for at least 24 hours after application [3]. Ingesting too much bergamot in tea can block potassium absorption, so caution and common sense rule when bergamot is present in a drink.
The therapeutic properties of the oil are antiseptic, antibiotic, analgesic, stomachic, calmative, antidepressant, digestive, anti-spasmodic, cicatrisant, deodorant, vermifuge, vulnerary and febrifuge [3]. Bergamot oil is used to treat fear, hysteria, tension, stress, depression and anorexia, plus hair loss and all types of skin infections [4].
Bergamot oil has a powerful effect on the stomach, spleen, and liver, and a positive effect on the urinary track, which helps control urinary infections and inflammation like cystitis. Bergamot blends well with other essential oils like geranium, clary sage, rosemary, cypress, frankincense, black pepper, mandarin, orange, jasmine, sandalwood, nutmeg, vetiver, and ylang-ylang.
Oily skin conditions as well as compulsive eating, postnatal depression, anxiety, SAD, PMS, and the general feeling of being fed-up with life can be treated with a bergamot massage or bath; besides depression and stress-related conditions, the bergamot oil vapor can also relieve respiratory issues [3].
Bergamot oil is still a faithful companion thanks to its sweet, fruity, and spicy floral quality. It's the Lord's Prayer for millions of depression and hair loss sufferers!
REFERENCES
1. "Bergamot Orange" Wikipedia. Last modified July 9th, 2014. http://en.wikipedia.org/wiki/Bergamot_orange.
2. Bouzouita Nabiha, El Omri Abdelfatteh, Kachouri Faten, Casabianca Hervé, Chaabouni Mohamed Moncef. January 2010. "Chemical Composition of Bergamot (Citrus bergamia Risso) Essential Oil Obtained by Hydrodistillation." Journal of Chemistry and Chemical Engineering 4: 60-62.
3. Keville, Kathy. "Aromatherapy: Bergamot" HowStuffWorks. Accessed August 1st, 2014. http://health.howstuffworks.com/wellness/natural-medicine/aromatherapy/aromatherapy-bergamot.htm.
4. Gianni, Annamarie. "Ingredient Showcase: Bergamot Oil, the Problem-Solving Essential Oil". Annamarie Gianni Skin Care. Last modified April 8th, 2013. http://www.annmariegianni.com/ingredient-showcase-bergamot-oil-the-problem-solving-essential-oil/.