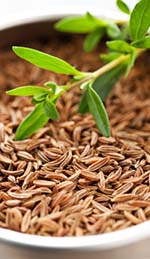 Caraway seeds are best known as the distinctive flavoring agent in rye bread, but their usefulness actually goes much further. Caraway seeds have been with us literally since the Stone Age: archaeologists working in Europe have postively identified caraway seeds in the middens (wastage pits) of pre-agricultural hunter-gatherers [1]. When you consider caraway seed oil's benefits in stimulating digestion and appetite as well as treating indigestion and gas [2], it's no wonder our pre-modern ancestors made room for it in their diets.
The caraway plant (Carum carvi) belongs to the same family as the carrot and fennel, with similar thread-like, feathery leaves and white or pink flowers that grow in an umbrella-shaped cluster [3]. It is native to Europe, North Africa and West Asia as far east as India; some scholars have suggested the name caraway dervies from the Sanskrit term for the seeds, caravi.
Caraway seeds—which aren't actually seeds but achenes, dry crescent-shaped fruits [3]—have been used to flavor various cuisines in ancient Rome, and in Europe and the Middle East since medieval times. Though we usually associate caraway's sharp licorice flavor with savory dishes, one popular dessert during Muslim Ramadan is sweet caraway seed pudding. Caraway seeds have remained especially popular in Germany, where they're used to add a sweet-spicy hint to everything from rye bread to meats, aged cheeses, and pickles. There's even a type of German brandy called Kümmel that is flavored with caraway seeds!
Over time, magical properties and folk beliefs also became attached to caraway seeds: in medieval Germany and other parts of Europe, caraway seeds were used in spells to protect children from harm. Other beliefs held that caraway seeds could be placed with valuables to prevent theft, and that the seeds worked as a charm to prevent lovers from losing interest in one another.
Therapeutically speaking, caraway seed essential oil is primarily used to stimulate appetite and ease digestion, especially when someone is suffering from gas, bloating, or constipation [2]. Caraway seed oil's antispasmodic action on intestinal cramps and stomach upset make this oil a natural choice at times when overeating or indigestion causes discomfort. Applied topically, caraway seed oil may also be helpful in regulating oily skin [4]. Its sharp, licorice-like scent is thought to relieve mental and emotional fatigue and have expectorant properties [5], making caraway seed oil a great complementary therapy for people suffering the winter doldrums or the aftereffects of a cold. Fans of fennel and anise essential oil's fruity camphoraceous scent and energizing aura will find a lot to like in caraway seed oil!
REFERENCES
1. Bull, HF and E Bull. Some Account of the Blackmore Museum. 1868. Devizes: Wiltshire Archaeological and Natural History Society.
2. Wong, Cathy, ND. "Caraway – What Should I Know About It?" Altmedicine. Last modified August 2nd, 2013. http://altmedicine.about.com/od/herbsupplementguide/a/Caraway.htm.
3. "Caraway". Wikipedia. Last Modified June 3rd, 2014. http://en.wikipedia.org/wiki/Caraway.
4. Stratford, Sarah Jane. "Caraway Seeds in Skin Care". Love to Know: Skincare. Accessed June 9th, 2014. http://skincare.lovetoknow.com/Caraway_Seeds_in_Skin_Care.
5. "Aromatherapy: Caraway (Carum carvi)". Herbs2000. Accessed June 9th, 2014. http://www.herbs2000.com/aromatherapy/a_caraway.htm.