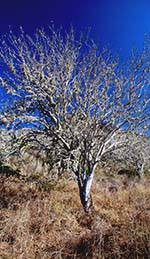 The name palo santo is Spanish for "Holy Wood'; it was given by Spanish missionaries to this unassuming tree because of the wood's abilities to induce introspective and spiritual states. All the way back to the Inca, who burned palo santo wood as a cleansing incense, the grounding properties of palo santo oil  have been well known to South American herbalism. Today, the oil's antimicrobial, anti-inflammatory, and sedative properties are being hotly investigated by modern aromatherapy [1].
The palo santo tree (Bursera graveolens) is native to the Yucatan region of Mexico, Central America, and the Gran Chaco region of South America that includes Peru, Ecuador, Venezuela, Bolivia, northern Argentina and parts of Brazil [2]. There are also a few palo santo trees on the Galapagos Islands. Part of the Burseraceae family, which includes such famous anointing oils as frankincense and myrrh, palo santo trees have twisted branches and whitish gray bark. The essential oil of palo santo is distilled from the heartwood and contains high levels of d-limonene, a-terpineol, trans-carveol, carvone, and germacrene D [4]. The aroma has been described as balsamic, earthy, and sweet with incense-like top notes.
Palo santo has a long history of use as a purifying incense used to prepare a space for ritual or spiritual work. The Inca burned the fragrant wood to banish negative energy from a space and guard against ill fortune, including evil spirits and illness. In Ecuador, the wood incense is still used to cleanse the home of "bad energy" (mala energia) and bring good luck. Palo santo wood has also been burned as a medicinal incense for various ailments: the Criollo people burned palo santo wood with the leaves of fringed rue (Ruta chapalensis) and blew it into the ears of those suffering ear infection or inflammation [2]. Another practice is fumigating cattle herds with palo santo smoke to protect the animals against vampire bats.
A herbal tea mixture containing palo santo is also prescibed in South American herbalism for treating stomachache, bowel and respiratory problems, and to improve mood, while the resin is frequently added to liniments for the treatment of rheumatism [3]. A growing use of palo santo oil is as an anointing oil in spiritual practice or meditation: a drop is massaged into the base of the neck to help center the mind and induce calm.
Palo santo oil is used in aromatherapy to treat muscle pain, inflamed joints, infections, and as a tonic for the immune and nervous systems [1]. With its earthy, grounding scent, palo santo oil can be diffused around the home or work space to create a cleansing, protective energy and to dispel negative emotions such as nervousness, anxiety, fear, stress, tension, or buried anger. Due to possible dermal irritation, palo santo oil should always be patch tested and diluted in a carrier oil before topical use.
As palo santo essential oil keeps growing in popularity, substitution and adulteration can be a problem; this is partly because the harvest of true palo santo is tightly regulated in Peru and Ecuador to protect the trees from overharvesting: by law, harvesters can only take wood from dead trees or branches that have fallen to the ground. Interestingly enough, many palo santo oil distillers believe that the dead heartwood actually yields a superior essential oil—and that the longer the tree has been dead, the more powerful the oil will be!
However, what this means for consumers is that certain unscrupulous companies will try to sell other Bursera species in place of palo santo, often under a generic name like "Holy Wood". These substitutes are not the true palo santo oil. If you want to know that you're getting the real, verified palo santo essential oil, make sure to only buy oils that list the genus-species, Bursera graveolens. At Essential Oil Exchange, we get our authentic palo santo oil direct from Ecuador, so you can experience the real benefits this holy wood offers to mind, body and spirit!
REFERENCES
1. "The Healing Benefits of Palo Santo." Natureal Mom. Accessed April 7th, 2014. http://naturealmom.com/the-healing-benefits-of-palo-santo/.
2."Bursera graveolens." Wikipedia. Accessed April 11th, 2014. http://en.wikipedia.org/wiki/Bursera_graveolens.
3. Nakanishi, Tsutomu, Yuka Inatomi, Hiroko Murata, Kaori Shigeta, Naoki Iida, Akira Inada, Jin Murata, Miguel Angel Perez Farerra, Munekazu Iinuma, Toshiyuki Tanaka, Shogo Tajima, and Naoto Oku. February 2005. "A new and known cytotoxic aryltetralin-type lignans from stems of Burersa graveolens." Chemical Pharmaceutical Bulletin 53(2): 229.
4. Young, D. Gary, Sue Chao, Herve Casablanca, Marie-Claude Bertrand, Danilo Minga. January 2007. "Essential Oil of Bursera graveolens (Kunth)Triana et Planch from Ecuador." Journal of Essential Oil Research 19: 525-26.