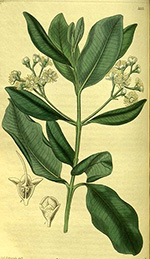 Although it's often confused with the bay laurel tree (Laurus nobilis) of Greek and Roman myth, the bay tree (Pimenta racemosa) is actually an evergreen tree native to the West Indies, Venezuela, and Guyana.
Alongside its close relative, allspice, Caribbean natives used the fragrant leaves of the bay tree in cooking, medicine, and to make tea and simple syrups. With an aroma described as somewhere between vanilla, clove, nutmeg, and cardamom, it's easy to see why bay is also known as the Spice Tree [1]!
For centuries, a hair wash made from bay tree leaves has provided a natural remedy to people suffering from hair loss and scalp infections [2]. The first European arrivals to the Caribbean quickly fell in love with a concoction called bay rum: bay leaves were steeped in rum to create a fragrant tincture that the settlers used as a hair wash and topical body rub for sore muscles and joints [3]. The smell of bay rum also served to energize the mind when someone was feeling under the weather. Considered a distinctly masculine scent by those who smell it, this curious tincture is still sometimes used as a cologne in the Caribbean.
Bay essential oil remains a celebrated hair tonic today, and many people's favorite way of working with it is to add a bit of bay essential oil to shampoo or a natural hair cleanser. Added to a warm bath or oil diffuser, the lovely aroma of bay oil can relax the senses, balance the emotions, and open up your sense of creativity. Try diffusing bay oil to warm up your living space during the winter months; it can be especially comforting when blended with other rich, spicy oils such as cinnamon, clove, and nutmeg.
REFERENCES
1. Nelson, Cynthia. "West Indian Bay Leaf (Pimenta racemosa): AKA Sweet Bay, Bay Rum, The Spice Tree". About.com: Latin Caribbean Food. Accessed July 1st, 2014. http://latinfood.about.com/od/latincaribbeancuisine101/a/about-west-indian-bay-leaf.htm.
2. "Bay Essential Oil: Health Benefits of Bay Leaf Oil for Hair". Tandurust: Home Remedies, Natural Cures, Treatment, Causes, Symptoms. Last modified November 19th, 2010. http://www.tandurust.com/essentialoils/bay-essential-oil-benefits.html.
3. "Bay (Pimenta acris, Pimenta racemosa)". Aromatherapy Essentials: Essential Oils Wiki. Accessed July 1st, 2014. http://aromatherapy-essentials.com/content/16-bay-pimenta-acris-pimenta-racemosa-.