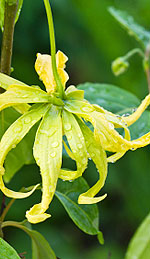 The flowers of the small ylang-ylang tree have been used in Asia for centuries to express love in marriage ceremonies.The tree grows in Malaysia, Madagascar, the Philippines, and the Reunion Islands. The name means 'Flower of Flowers' and those flowers can be pink, yellow, and mauve. The best oil usually comes from the yellow flowers, which are picked early in the day in early summer.
Ylang-ylang oil qualities vary depending on the distillation segment. The first segment is considered 'extra' and is a sought after commodity in the perfume industry. Aromatherapy considers each oil segment useful in various ways, and the healing properties of any of these oils are considered impressive by any standards.
Ylang-ylang oil is used to slow down a rapid heartbeat and rapid breathing, and is thus very useful in trauma and shock situations. Ylang-ylang is also used to condition the skin because it balances natural oil production. The oil has a very distinct sweet aroma, which also acts as a catalyst for sexual passions.
The three aromatherapy oils that are best known for aphrodisiac properties are rose, neroli, and jasmine, but ylang-ylang is also one of the best oils for uplifting the emotions and fueling sexual desire. Ylang-ylang has a calming effect and an incredible floral scent, so it is considered a great aphrodisiac by people who are looking for a natural stimulant that rarely disappoints in terms of rousing the libido.
The chemical compounds in ylang-ylang oil certainly play a role in its ability to interact with hormone secretion. The chemicals found naturally in the oil are linalool, methyl ether, caryophyllene, geranyl acetate, benzyl benzoate, methyl benzoate, benzyl acetate, p-cresyl, and other sesquiterpenes. Those chemicals give the oil aphrodisiac, hypotensive, nervine, antidepressant, sedative, antiseborrhoeic, and antiseptic properties.
The euphoric and sedative effect that ylang-ylang has on the nervous system helps relieve anxiety, tension, fear, shock, and panic. When ylang-ylang oil is massaged into the skin the nervous system relaxes, which means the respiratory and circulatory systems begin to function normally. When the oil is added to a cream or lotion it balances sebum production in the skin. That helps eliminate oily skin and balances overly dry skin as well.
When ylang-ylang oil is blended with essential oils such as lavender, grapefruit, bergamot and sandalwood in aromatherapy, the wellness results are substantially enhanced. Ylang-ylang lives up to its name; it continues to be the 'flowers of flowers' that helps people enjoy a healthy sex life and to relax in times of stress.