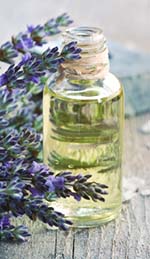 What the heck is lavandin oil anyway? A brand name, a catchy neologism, or a misspelling of lavender oil? None of the above! Lavandin is actually a real plant: it is a sterile cross between the world-famous true lavender (Lavandula angustifolia) and spike lavender (Lavandula latifolia) [1]. As a sterile cultivar of lavender, lavandin is similar in appearance, but its essential oil composition is notably dissimilar; as a result it has different though equally important uses in aromatherapy.
The Latin name for lavandin is Lavandula x intermedia; the 'x' represents that lavandin is a hybrid cross between two different species of lavender [2]. Like true lavender, lavandin comes in a number of different cultivated varieties, but the most common varietal used in essential oil production is the "Grosso" strain, so named for its large, prominent flower spikes. In general, lavandin can be distinguished visually from lavender by its taller height and its larger, longer flower spikes. Additional flower clusters also grow laterally up the stems of lavandin plants. Lavandin flowers can be either bluish purple (similar to lavender flowers) or purplish gray like spike lavender flowers. Because lavandin is sometimes found growing near lavender or spike lavender plants, botanists believe it may have come into being as a natural hybrid created by cross-pollination between L. angustifolia and L. latifolia in the wild [1].
Hybrid lavandin plants were first cultivated in 19th-century France for use in the essential oil industry. It quickly became an important oil in perfumery, and has been included in famous perfume blends up through the present era, including possibly the most famous commercial fragrance of them all, Chanel No. 5. In fact, Pierre Wertheimer, a perfumer known as the "perfume king" who worked closely with Chanel in creating this fragrance, even named his prize racehorse Lavandin! His dame was named Lavande, the French word for true lavender [2].
Lavandin is markedly different in the essential oil it produces: lavandin essential oil contains about 7% camphor, the same cooling compound found in the essential oil of the camphor tree Cinnamomum camphora [3]. This ratio of camphor is much higher than that in true lavender oil, giving lavandin oil a muskier, more penetrating aroma than the delicate floral scent of lavender. Lavandin is actually preferred in commercial cultivation of oils used for soaps, detergents and fragrances because it grows faster, produces a higher oil yield per pound, and is hardier than lavender: while lavender does best in higher altitude, Mediterranean climates, lavandin can thrive in a variety of altitudes and climatic conditions.
Many people perceive lavandin oil as being lower quality simply because it is cheaper to produce in volume than lavender oil, but this is a misconception. Although lavandin oil is popularly used in detergents, soaps, and other "industrial" fragrancing applications, due to its high camphor content, therapeutic-grade lavandin essential oil can also be used in aromatherapy, especially for inflammatory conditions [4]. Aromatherapists use lavandin oil in diffusion to clear nasal and respiratory congestion, clear sinuses, and as a mosquito repellent that may be more effective than lavender oil [3]. Once diluted in a carrier oil, lavandin essential oil also acts as an anti-inflammatory for sore muscles and joints: its camphor content produces a direct cooling effect on tissues and stimulates circulation to flush away inflammatory free radicals [4].
Lavandin oil is also known to be both calming and somewhat stimulating to the mental faculties. The oil is sometimes used to reduce nausea while bolstering the appetite and energy levels throughout the body [4]. However, unlike lavender oil which is therapeutic for burns, lavandin oil  should never be used to treat burns or irritated skin, because the camphor content in lavandin oil can actually irritate burned tissue [3].
When it comes to fragrancing, lavandin is simple: even though it has a muskier, more camphoraceous scent compared to lavender, the oil blends well with many of the same oils as lavender does, including clove, rosemary, thyme, sage, and citrus oils (especially bergamot and lime) [1]. Lavandin's bolder aromatic presence can sometimes put people off this essential oil in favor of lavender, but this hybrid variety of lavender has a lot to offer in aromatherapy!
REFERENCES
1. "Lavender vs. Lavandin". Jersey Lavender. Last modified November 27th, 2010. http://blog.jerseylavender.co.uk/?p=260.
2. "Lavandin (horse)". Wikipedia. Last modified May 10th, 2014. http://en.wikipedia.org/wiki/Lavandin_(horse).
3. Svec, Susan. "What the Heck is Lavandin?" Susan's Natural Soap Blog. Last modified August 17th, 2009. http://susansoaps.com/blog/what-the-heck-is-lavandin/.
4. "Lavandin Oil Benefits". Yogawiz. Accessed July 16th, 2014. http://www.yogawiz.com/aromatherapy/aromatherapy-essential-oils/lavandin-oil.html.